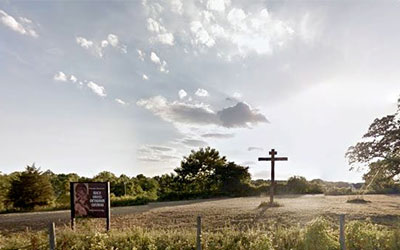 We Are Building a Church!
As the parish has grown, the need for space has become increasingly pressing. Being crowded is a blessing, but also a persistent inconvenience during both worship and fellowship hour, so we all voted unanimously to purchase land in Kernersville, in an excellent central Triad location. Through personal donations, fundraising efforts and assistance from the Diocese, the land has been fully paid off. We then mounted a successful Capital Campaign (please see our Raising the Cross website for more information), and we are expecting to begin building our new temple in 2018!
Our New Home will be Central in the Triad:
1320 Masten Drive in Kernersville.
Please see our Building Project Log for more information.
Recent Sermons and Articles
Building our Own House Churches: On the Entry of the Most Holy Theotokos into the Temple St. Luke (Voyno-Yasenetsky) Of Simferopol
Before all other deeds, remember about this great deed: that your children, innocent and pure children, take into their pure hearts the Law of God, the commandments of Christ, at least from the small amount of instruction that they can receive from you.
You have not yet forgotten the Law of God, so teach, teach your children, and then your family will become your house church. And the light of Christ from this house church will spread invisibly for you beyond the boundaries of your family.
The Light of Christ, His Divine Truth, will invisibly flow into the hearts and minds of all those who have dealings with you. It could be that the influence of your house church will go beyond its boundaries.
Then the eternal blessing of our Lord and God Jesus Christ, His Beginningless Father, and the All-Holy Spirit will be upon you. Article
Forgiveness Requires Courage: Fr. Alexis Trader.
The more we forgive, the more courage we gather within our heart which in turn makes it easier to forgive the next time, and the time after that, and seventy-times seven that follow. When we begin living according to a life in Christ, our world changes, we perceive those around us differently. We begin to see them as Christ sees them. Most importantly, we recognize the grace of Christ operative in our lives. We can then echo the words of Saint Paul, "I can do all things through Christ which strengtheneth me" (Phillippians 4:13) and that includes forgiving everyone, even those who have wronged us greviously. Article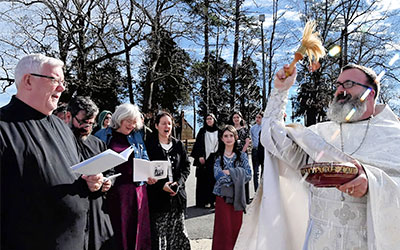 Parish News
---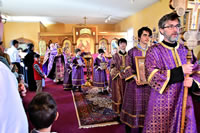 We We have photos from the Sunday of Orthodoxy.
---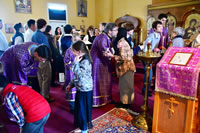 We We have photos from the Sunday of Forgiveness.
---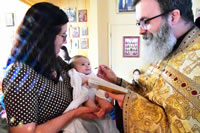 We We have photos from Nikolai's baptism!
---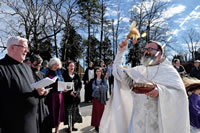 We celebrated Holy Theophany, and after, the Outdoor Blessing of the Waters.
---
Children and adults sang Christmas carols just before Christmas.
---
St. Nicholas visited Holy Cross!
---
We have photos from Pentecost, and the chrismations on Pentecost!
---
We have some photos from the services on Holy Friday!
---
We have some photos from the services of Pascha!
---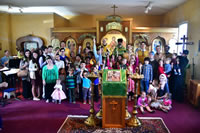 Palm Sunday was a festive celebration, with our yearly photograph of parish children after the procession.
---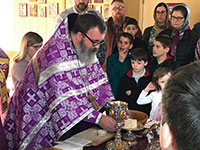 On Soul Saturday, Father Christopher celebrated a teaching liturgy, teaching during the Proskomedia and the Divine Liturgy.
---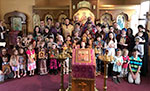 On the Sunday of Orthodoxy, we had a procession with icons and took a photo of the children.
---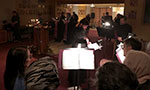 In the first week of Lent, parishioners gathered to pray the penitential Canon of St. Andrew.
---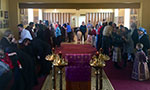 We began Lent with the Rite of Forgiveness.
---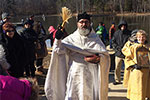 Thanks to Whitney for wonderful photos from the Outdoor Blessing of the Waters on the Sunday following Theophany..
---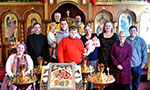 Thanks to Sergey for photos from the John Luke's Baptism on the Sunday after Nativity!
---
Thanks to Sergey for many more photos from the baptisms and chrismations just before Nativity!
---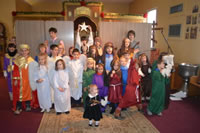 We have photos from the children's Nativity Play!
---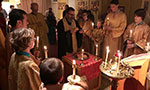 Our celebration of the Nativity of Christ began with a beautiful and joyous Vigil service.
---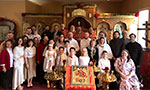 We celebrated 5 baptisms and 11 chrismations on the Sunday before Nativity!
---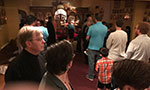 The first of 2017's Nativity Prefeast services began the final stage of prayerful preparation for Holy Nativity.
---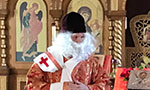 St. Nicholas visited Holy Cross this year again, and later, many parishioners and their children sang Christmas carols at Adams Farm Living and Rehabilitation, where our brother George of blessed memory used to live.
---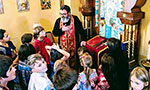 Father Christopher gathered together the parish children who are approaching the appropriate age and offered them some teaching about confession.
---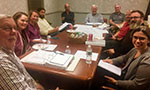 After so many years of hoping, researching, planning, preparing and praying, at last we had our first meeting with the builders, initiating the actual path toward building our new church!
---
For more parish news, please see our Parish News, Photos and Videos page.