About Us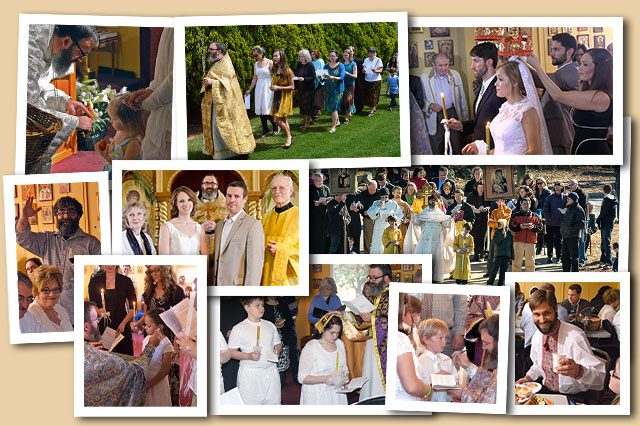 Many Orthodox churches in America were established to serve the needs of an immigrant population, and to faithfully transmit and preserve the rich cultural heritage, traditions and language of a specific nation of origin.
We at Holy Cross Orthodox Church, however, are a classic American community of ordinary people from many different ethnic and cultural groups, and our services are entirely in English. We are a very warm and open community and we welcome all visitors.
Our Parish History
On September 14, 2005, the day the Church commemorates the Exaltation of the Holy Cross, a small group of families from Greensboro, Winston-Salem and High Point, NC met to discuss the need for a new Orthodox Mission church for the Triad Metropolitan area, and prayerfully decided to work diligently to establish such a mission. Father Marcus Burch of Greenville, SC and Father William Mills of Charlotte, NC generously helped, serving Vespers services every other week at All Saints Episcopal (Greensboro, NC) and some Divine Liturgy services. The first Divine Liturgy was held at Saint Matthew's Episcopal Church in Kernersville, NC on March 12, 2006.
In May 2006, the Mission learned that it was given the name of Holy Cross, commemorating the Exaltation of the Holy Cross (the first day the founders all met). Later in May, we joyfully learned that Father Christopher Foley was assigned to our church. Father Christopher came to us directly from St. Vladimir's Orthodox Theological Seminary after graduating that year.
Our Bishop, His Eminence Archbishop Dmitri, first visited our parish on September 22, 2006. Vladyka Dmitri encouraged us not to be ashamed of the Gospel and to proclaim with boldness Jesus Christ, who is the fulness of what it is to be man and what it is to be God. His visit was a real blessing to us at this early stage of our mission.
September 30, 2006 brought Fr. Ted Pisarchuk to our community for a retreat/workshop on church growth. He is the missions director for the diocese of the South. He really challenged us to step out in faith and be open to God's direction as we continue the search for a more permanent location. He reminded us that the Church is more than just a building, it is the people of God gathered around Christ at the altar. He gave some very practical advice to us for the building up of this vineyard in the Triad area.
Some snapshots from our early days:
Now, and looking to the future!
Looking for a more permanent home, we leased an unused Fellowship Hall at Christ Presbyterian Church in High Point, renovated it, painted it, installed carpeting and an iconostas, and we are very happy in our own church! On December 24, 2006 we celebrated our first Divine Liturgy in our new home. What a wonderful Christmas gift for us at Holy Cross it was. God is good!
Since that time, our parish continues to grow. We would love to welcome you into our parish family - come and join us!