Photos and Videos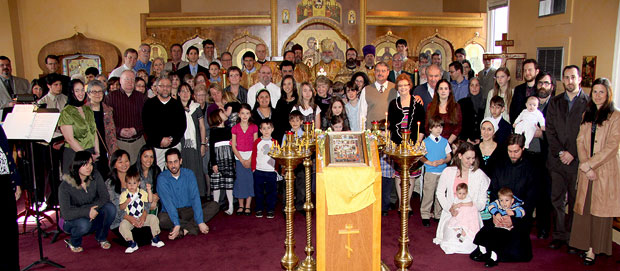 Photos and Videos from 2016
Photos and Videos from 2015
Photos and Videos from 2014
Photos and Videos from 2013
Photos and Videos from 2012
Photos and Videos from 2011
Photos and Videos from 2010
Photos and Videos from 2009
Photos and Videos from 2008
Reader Daniel offered some photographs from the 15th All-American Council, where Bishop Jonah was elected Archbishop of Washington and New York and Metropolitan of All America and Canada.
Our dear brother Father Deacon John Hays was ordained to the priesthood on November 1, 2008.
With gratitude to God, and for the gifts and work of His servants Father
Christopher, Nicolae Soare, George Fesenko and Reader Daniel Kowalcheck,
we celebrated the blessing of our new church sign on Sunday, October 26,
2008.
A friend of Father Christopher took some beautiful photographs of our church while visiting and generously shared them with us.
What a joyous occasion it was to celebrate Tom and Yana's marriage at Holy Cross! God grant them many Blessed years!
Photos are now available from the ordination to the Diaconate of Father Deacon John Hays in Charleston, SC, on Saturday, May 24, 2008.
We have some photographs from Holy Week and Pascha:
We also have some videos from Holy Week and Pascha:
Photographs of our first Archpastoral visit from his Eminence, Dmitri, Archbishop of Dallas and the South.
Photographs of the outdoor Blessing of the Waters at Theophany, 2008.
Photographs of Gideon's Baptism.
Photos from 2007
Photographs of the Reconstruction of our Iconostas. We also invite you to read the story of the nearly 2,000 mile journey to retrieve it from Canada, which turned out to be quite an adventure!
Photographs from Holy Pascha, 2007.
Photographs from Holy Theophany 2007.
Photos from 2006
Photographs of our first Divine Liturgy with our priest, Father Christopher Foley.