The Sunday of the Prodigal Son
Prologue to the Great Lent
The Church offers us five Sundays that help us enter the frame of mind we need for the "joy-creating sorrow" of the Great Lent:
The Sunday of the Prodigal Son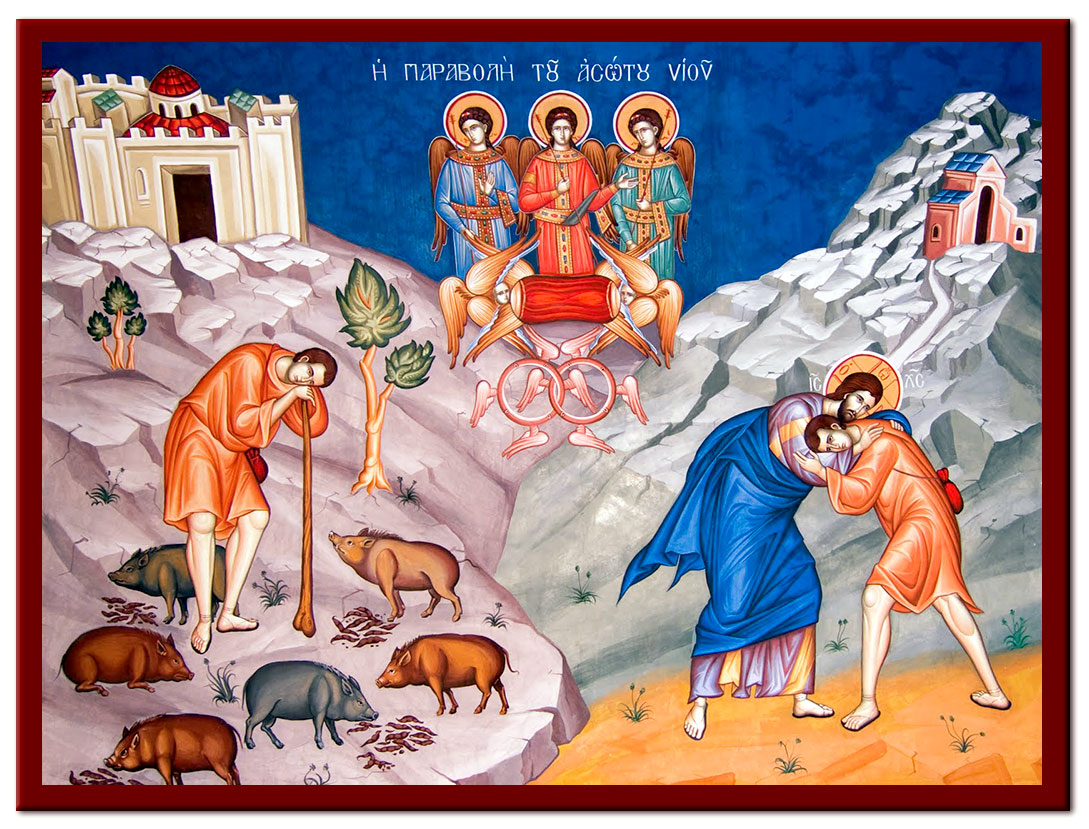 Metropolitan Kallistos, in his introduction to the Lenten Triodion, emphasizes that repentance is not only sorrow for our sins, but positive action:
"The parable of the Prodigal Son forms an exact ikon of repentance in its different stages. Sin is exile, enslavement to strangers, hunger. Repentance is return from exile to our true home; it is to receive back our inheritance and freedom in the Father's house. But repentance implies action: 'I will rise up and go…' (verse 18). To repent is not just to feel dissatisfied, but to take a decision and to act upon it."
From the Lenten Triodion:
Utterly beside myself, I have clung in madness to the sins suggested to me by the passions. But accept me, O Christ, as the Prodigal.
With the words of the Prodigal I cry aloud: I have sinned, O Father; like him, receive me now in Thine embrace and reject me not.
Open Thine arms, O Christ, and in loving-kindness receive me as I return from a far country of sin and passions.
I have bowed down miserably to the pleasures of the body and have become wholly enslaved to the demons that provoke the passions; and I have become a stranger to Thee who lovest mankind. But now I cry with the voice of the Prodigal: I have sinned, O Christ, despise me not, for Thou alone art merciful.
Groan now, my soul, all-wretched, and cry aloud to Christ: O Lord who for my sake hast become poor of Thine own will, in my poverty I lack every good work: make me rich with the abundance of Thy blessings, for Thou alone art full of love and mercy.