The Sunday of the Publican and the Pharisee
Prologue to the Great Lent
The Church offers us five Sundays that help us enter the frame of mind we need for the "joy-creating sorrow" of the Great Lent:
The Sunday of the Publican and the Pharisee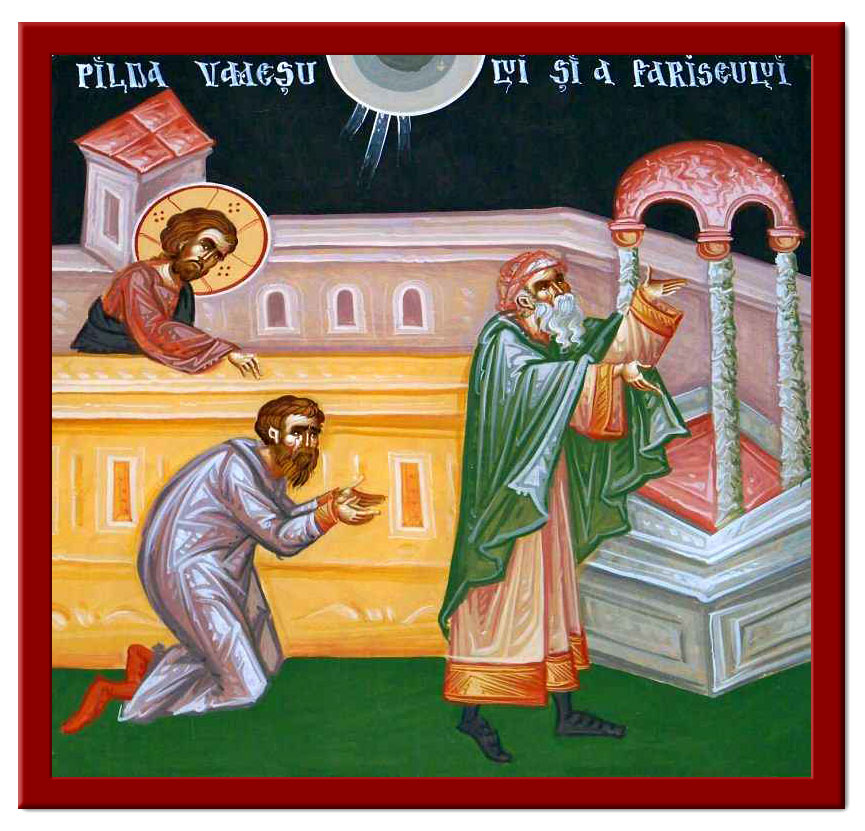 This day begins the liturgical cycle of the services of the Lenten Triodion. Metropolitan Kallistos Ware, in his introduction to that book, comments that repentance is more than regret or sorrow, but a positive transformation, which can only occur in the context of being poor in spirit:
Repentance is the door through which we enter Lent, the starting-point of our journey to Pascha. And to repent signifies far more than self-pity or futile regret over things done in the past. The Greek term metanoia means 'change of mind': to repent is to be renewed, to be transformed in our inward viewpoint, to attain a fresh way of looking at our relationship to God and to others. The fault of the Pharisee is that he has no desire to change his outlook; he is complacent, self-satisfied, and so he allows no place for God to act within him. The Publican, on the other hand, truly longs for a 'change of mind': he is self-dissatisfied, 'poor in spirit', and where there is this saving self-dissatisfaction there is room for God to act. Unless we learn the secret of the Publican's inward poverty, we do not share in the Lenten springtime.
From the Lenten Triodion:
The Word who humbled Himself even to the form of a servant, showed that humility is the best path to exaltation. Every man, then, who humbles himself according to the Lord's example, is exalted on high.
The Pharisee was exalted in his righteousness, and so he fell. The Publican was abased, defiled by many sins; yet he was exalted and, against all expectations, he was justified.
Though he was rich in virtues, foolish pride brought the Pharisee to poverty; but in the extremity of his need the Publican was justified through his humility. Let us also gain humility.
The Saviour and Master, ever leading us to divine exaltation, in His actions revealed to us the humility that raises us on high. For with His own hands He washed the feet of the disciples.
The crafty enemy lies in wait for the righteous and despoils them through vainglory, while he binds sinners fast in the noose of despair. But let us emulate the Publican and hasten to escape from both these evils.