Archbishop Dmitri's Visit 2008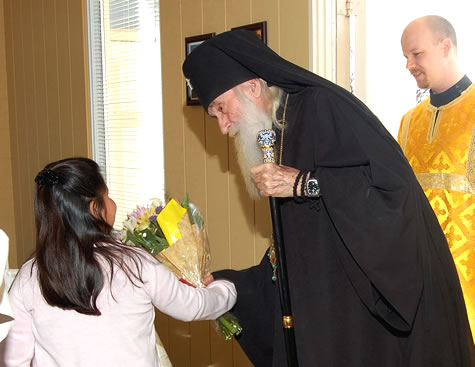 Archbishop Dmitri visited our parish and a joyful occasion it was, standing in the presence of such a wonderful, caring shepherd of the faithful in Christ. His Eminence tonsured two Readers, our Choir Director Daniel Kowalcheck and his brother Nicholas (attached to St. Nicholas Orthodox Church in Pittsburgh), and ordained to the Subdiaconate our brother John Hays.
We have many photographs generously submitted by many people to all of whom we are grateful!
Great Vespers
Below are a few photos from Great Vespers on Saturday Evening.
Awaiting His Eminence's Arrival
Below we see photographs of preparation before the Archbishop's arrival on Sunday morning, as readers and Choir Director review and discuss the upcoming service, and visiting priest (Nora's father) Father Onouphry arrives: