Parish News
[NOTE: Because we try to offer photos and sometimes video, the events and news in the parish now are available on the Photographs and Videos page.]
2014 Parish News
Holy Cross was front page news!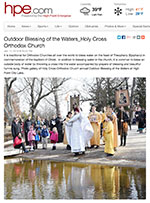 Our Outdoor Blessing of the Waters was featured on the front page, and also with a photo gallery in the High Point Enterprise news!
Christmas Caroling
Church School students and families sang Christmas carols at Adams Farm Assisted Living. They were enthusiastically received and did a great job of spreading holiday cheer!
Services at Hickory, NC
On November 9, Holy Cross parishioners, choir members and Father Christopher served vespers at the campus of Lenoir-Rhyne University in Hickory, NC, at the request of many who are interested in starting an Orthodox Christian mission there.
Annual Parish Picnic
We have some photos from our annual parish Fall Picnic at City Lake Park!
Elizabeth and Nicholas were married.
Elizabeth and Nicholas were married on Sunday, August 17, in a joyous and beautiful ceremony. We now have a brief video!
Baptism and Chrismations
We now have photos from baptisms and chrismations on Holy Saturday and Palm Sunday!
2013 Parish News
St. Nicholas visited Holy Cross!
St. Nicholas visited Holy Cross, spoke, and gave gifts to all of the children!
Betsey and Charles Were Married.
We now have many wonderful photographs and a video of Betsey and Charles' wedding!
Betsey (Mary) was Chrismated.
We have some photos of Betsey's (Mary's) chrismation!
Archbishop Nikon Visited Our Parish and Blessed Our New Land.
We have a number of videos and photos from Archbishop Nikon's visit, his blessing of our land, and the Exaltation of the Holy Cross.
Clearing Our New Land for the Archbishop's Visit.
Many parishioners worked together to clear the land for blessing by Archbishop Nikon.
Betsey Became a Catechumen
On August 28, Elizabeth was welcomed as a Catechumen!
Elena's Baptism
We have some photos from Elena's baptism a few weeks ago!
Tom and Yana's Daughter was Baptized.
We now have some wonderful photos of Tom and Yana's daughter Nina's baptism.
Baptism of Edward and Amelia's son
Edward and Amelia brought their son Peter back to Holy Cross to be baptized. Reader Daniel and Nora are Godparents.
Our Annual Parish Picnic
We celebrated our annual Parish Picnic on the Sunday following our Parish Feast, the Exaltation of the Holy Cross.
Jim and his sons were Chrismated
Jim and his sons were Chrismated on Sunday!
Father Gerasim's Visit
We had the opportunity to meet with and get to know Fr. Gerasim Eliel who is one of the candidates being considered for Bishop for the Diocese of the South.
Chrismations on Holy Saturday
We have photos from the baptism and chrismations on Holy Saturday!
The Chrismation of the Shoemaker Family
We have some photos of the Shoemaker family chrismation.
Robert's Chrismation
Faith and Subdeacon Jim's grandson Robert was chrismated, who was joyful to join the holy Orthodox Church and at last take communion for the first time. Nicholas is his sponsor.
2011 Parish News
Father Christopher Concelebrated with Metropolitan Hilarion
Fr. Christopher concelebrated Vigil and the Hierarchical Divine Liturgy with Metropolitan Hilarion, Bishop George and many other clergy for the Feast Day of St. Nicholas at St. Nicholas Orthodox Church, Fletcher, NC.
Metropolitan Hilarion's Visit to Mebane
Several Holy Cross parishioners shared in the celebration at Holy Trinity Orthodox Church, Mebane, NC, when Metropolitan Hilarion came to visit.
St. Nicholas' Visit to Holy Cross
St. Nicholas visited Holy Cross, spoke to children and all present, distributed gifts, and was a joyful blessing in this season of preparing for the celebration of the Nativity of Christ.
All American Council of the OCA
Father Christopher and Subdeacon Jim represented our parish at the 16th All-American Council of the Orthodox Church in America. Reader Daniel attended as an observer, and shared some photographs with us!
Annual Parish Picnic
On the weekend following our Parish Feast, we celebrated our annual parish picnic following the Divine Liturgy, which was, as always, a time of joy. We have some photos of the divine services, and a parish "greeting" video!
Our Parish Feast: The Exaltation of the Holy Cross
We celebrated our Patronal Feast of the Exaltation of the Universal and Life-Giving Cross with reverence and gratitude. Joining us and concelebrating with Father Christopher was Fr. Thomas Newlin of Dormition Greek Orthodox Church in Greensboro. We have some photos from the festal services.
Lynn Elizabeth's Chrismation
Lynn Elizabeth was received into the Orthodox Church in the Mystery of Chrismation, with the parish joyously celebrating with her.
Barbecue Fund Raiser
MANY THANKS to David and Nicolae and all who helped cook, prepare, serve, clean up, and help in all ways at our first Holy Cross BBQ sale which was held on Saturday, July 30!
Naomi's Churching and Baptism
We joyfully welcomed Naomi into the parish family as she was churched and baptized! We have some photos to share!
Bishop Mark Visited Holy Cross
Bishop Mark graciously visited Holy Cross, gave wonderful talks, and celebrated a Hierarchal Divine Liturgy, ordaining Father Deacon George and Subdeacon James. The entire weekend was filled with joy! Eis polla eti, Despota!
The Great Blessing of the Waters at City Lake Park
We now have some wonderful photos as well as a brief video of the Great Blessing of the Waters performed on the Sunday following Theophany at City Lake Park in High Point.
Alexandra's Baptism
We now have even more photos from the baptism of Reader Daniel's and Nora's beautiful little girl Alexandra.
Steve and Pam's Chrismation
Steve (Stephen) and Pam (Photina) were joyously received by Chrismation into the Holy Orthodox Church! Photos here!
2010 Parish News
Indonesian Orthodoxy: Fr. Daniel Byantoro
Fr. Daniel Byantoro visited Holy Cross and spoke about the thriving indigenous Indonesian Orthodox Church, and about the life of the he also spoke movingly about his own personal experiences in his own spiritual journey, which began as a Muslim in a Muslim family. All present found his talk very educational, edifying, and inspiring. More on his story is on the Friends of Indonesia web site. It is very moving and inspiring. We invite you to visit their site and learn more.
Candle Lighting Ceremony / Memorial Service for Children
Sunday evening, December 12th, Orthodox and non-Orthodox joined in a Candle Lighting Ceremony of the Compassionate Friends, an organization of people who have lost a child. Following the lighting of the candles, there was a pannikhida. More information is available on the page that announced it.
Second Annual Fall Festival Yard Sale and Chili Cookoff
Our Second Annual Fall Festival Yard Sale and Chili Cookoff was a joyous occasion: a perfect, glorious Fall day, wonderful chili, burgers, hot dogs, Greek foods, Serbian Dancers, bargains galore, and more!
Adult Study Group
This month we began a new adult study group, studying Archimandrite Melitios Webber's book entitled Bread and Water, Wine and Oil: An Orthodox Christian Experience of God. We meet on Wednesdays, with little compline at 6:30PM and the group at 7:00PM
Our 2nd Annual Parish Picnic!
We celebrated our 2nd Annual Holy Cross Parish Picnic, commencing with an outdoor celebration of the Divine Liturgy followed by joyous feasting and fellowship.
Our Parish Feast
We have video and snapshots of services of our Parish Feast, the Exaltation of the Holy Cross, with the concelebration of 6 priests and a deacon from multiple Orthodox jurisdictions.
Chrismations, Baptisms and Catechumens!
Anna was chrismated and her daughters Ruth and Esther were baptized! Katia's daughter, Anya Marie was baptized! And Caleb, Emily, and Their Daughter Become Catechumens.
Jeanette (Anna) Rouse Lanier
The newly Chrismated handmaiden of God, Jeanette (Anna) Rouse Lanier, mother of David Lanier, was Chrismated on Sunday June 27, 2010 and fell asleep in the Lord on Friday, July 2, 2010. More...
Celebration at the Consecration of the Local Serbian Church
Father Christopher, our choir, and many of our parishioners joined with the local Serbian church, St. Basil of Ostrog, as they consecrated their beautiful new church building.
Holy Cross Support for a Possible Future Mission in Hickory
Father Christopher, Reader Daniel and several Holy Cross parishioners served a Vespers service in support of a possible new mission in Hickory.
Holy Pentecost
Holy Pentecost was celebrated with joy and awe, and with the joyful reception of two beloved members of our parish family as catechumens!
Spaghetti Dinner Fundraiser
The Spaghetti Dinner Fundraiser was a joyful and successful event -- many thanks to all who worked so hard to make it so! We have some photographs of the event.
The Annual Parish Meeting, and the Election of the Parish Council
When Father Christopher was able to resume full-time service, we had our Annual Parish Meeting, in which we voted for 2 new Parish Council members, reviewed the parish Finance Report, heard our Priest's Report, reviewed the results of a Parish Survey, and discussed how it provides direction for locating a future building site. We also discussed financing, the remarkable growth in our Building Fund, a possible site we considered, future fundraising efforts, and other business.
Lent, Holy Week and Holy Pascha
We have photographs and video of parts of our journey together through the "joy-creating sorrow" of Lent, following Christ on His sacrificial journey through Holy Week, and the celebration of His Resurrection. Please see the Photographs and Videos page for more.
Follow-up on Matushka Carrie
Matushka Salome/Carrie came home from the hospital on March 2. On March 4, she wrote, in part,
Well, I've been home now for two and a half days and in many respects I feel better than I thought I would. However, I am being a good patient and not picking up anything heavier than a gallon of milk. I am taking some pain killers and am just a little tired than usual.

My good friend, Matushka Jenny Mosher is here helping us take care of the house and the boys. We've had a snow day and some sick kids in the house these past 2 days and so our "typical" life has been going on a little less than predictably. We've been enjoying the delicious meals and care of our friends and I continue to feel full-hearted and blessed.

A few of you have asked about the ability to make contributions to our medical needs fund, Open Your Heart to Carrie, via credit card. As you may remember, my father-in-law had a tax-deductible 501-C fund established for my surgical expenses (which he posted in an earlier journal entry last week). Today a kind friend was able to set up a website that should enable making donations more easily than before. We will be able to accept donations by credit card/debit card now.

There will be at least 3 more weeks of restriction from driving for me. I go back to the cardiologist in 2 weeks and the surgeon in 3 weeks to evaluate my progress. My lifting restrictions won't be over with until 2-3 months from now. The biggest concern is that my sternum heals properly - that's why I have the lifting restrictions.

I have been told that after I am fully recovered I should travel over to Chapel Hill to have a cardio-geneticist look into my condition. After looking over the autopsy of my late sister, Pat (who died at age 41 in 1991) with my surgeon, it was determined that my enlarged aorta was definitely genetic - she died of the very same condition I had. I didn't know prior to this that an aneurysm caused her death. My family always talked of her death as the result of "cardiac tamponade." The thing I didn't understand until earlier this week is that Pat's cardiac tamponade was caused by a massive aneurysm on her aortic root. I will need to undergo testing to find out exactly what connective tissue disorder caused my aneurysm. Knowing what I have will help me not only to know what else I might expect from this disease (if anything) in the future, but also how it might be passed on and how we might best test my children, siblings, cousins, nieces and nephews. My hope is that more knowledge about what caused this could help save the lives of some of the people I love.

I have to say that it still hasn't sunk in that I have had surgery. Isn't that funny? When will the shock wear off I wonder....

With love and gratefulness for all your support,
Carrie
Unction Service for Matushka Carrie; her surgery and progress.
The healing service of Holy Unction for Seven Priests was served for Matushka Salome - Carrie Foley, two days before her cardiac surgery on Thursday, February 25, to correct a recently discovered congenital defect in her ascending aorta (the major blood vessel from the heart to the rest of the body).
Father Christopher reported that the surgery went well, that the valve they had feared might need to be replaced did not need replacement after all, and that they could not have asked for a better outcome. He also said, in part,
"My grace is sufficient for you, for my power is made perfect in weakness."

Glory to God for His mighty acts! ... I am still amazed at the good news of the surgery and that she was able to keep her valve. Your prayers have been rising like incense before God's throne and we are SO greatful, but please don't stop for there is a long road of recovery ahead. Here is a prayer of thanksgiving for recovery so that we might all give thanks and praise to our Divine Physician and Healer, Christ our God:

"O Almighty God, who casts down and lifts up again; by whose wounds we have received healing; who strikes and again bandages up: We thank you that you have not seen fit to give your handmaiden, Carrie, over to death, but have shown your compassion upon her, and have preserved and helped her in her affliction. Mercifully look down we implore you, upon this your handmaiden, Carrie, to whom you have granted comfort and healing, and grant that the chastisement of her body may purify her soul, and that the good work begun in her may be completed in your good pleasure, and that she may be brought to everlasting life, through the grace of Your Only-Begotten Son, with whom You are blessed, together with Your Most-Holy, Good and Life-Creating Spirit, now and ever and unto ages of ages. Amen."

+Glory to God for all things+
Matushka Carrie is still in very early recovery from major cardiaovascular surgery, which, as Father Christopher said, is a "long road." Please keep her and Father Christopher and their family in your prayers.
March for Life
Fr. Christopher joined His Beatitude, Metropolitan Jonah and hundreds of other Orthodox Christians in the March for Life in Washington, DC this year, on Sanctity of Life Sunday, the Sunday following the anniversary of the Roe v. Wade Supreme Court decision.
2009 Parish News
The Wonderworking Kursk Root Icon of the Mother of God
Fr. Christopher Foley concelebrated with Fr. Sergei Lukianov when the miraculous Kursk Root Icon of the Mother of God visited the mission parish of Holy Trinity Orthodox Church (ROCOR) in Mebane, NC, on December 23, 2009. Fr. Sergei , who had accompanied the holy icon on its historic visit back to Russia where thousands of the faithful lined the streets for miles and perched on roofs to greet the Mother of God, spoke movingly of his experiences and what he observed.
The Visit of St. Nicholas
St. Nicholas visited Holy Cross on his Feast Day, and spoke to children and all present, and gave gifts to the children. We have photographs of this historic visit!
Thomas Lowry Receives a Blessing as He Leaves for Boot Camp
Thomas Lowry received a blessing as he prepared to enter Boot Camp in the US Army. Tom is a specialist in the US Army, and as he was preparing to leave for 12 weeks of Boot Camp at Fort Jackson, South Carolina, he received a blessing at church. He left on November 16th. In February he is going to start his AIT training in Norfolk, Virginia. His destination thereafter is not finalized yet. Please keep him in your prayers.
Our First Annual Fall Festival
Our first annual Fall Festival was a grand success! The yard sale and chili cookoff were enjoyed by all, the children enjoyed activities prepared for them, everyone enjoyed sampling 9 different wonderful chilis, and the proceeds will go to the Building Fund. Thanks to all who organized and participated in it!
Our First Annual Parish Picnic
We celebrated our first annual parish picnic following an outdoor Divine Liturgy.
Our Mission Parish Was Featured in the OCA's Magazine!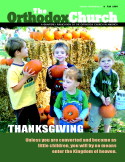 Our parish was featured in the OCA's Magazine, The Orthodox Church. They reported on the journey of our iconostas from its original home in Ottawa from the Annunciation to the Theotokos / St. Nicholas Cathedral, who generously donated it, and the efforts and experiences of Adam and Rob as they made the trip to bring it back.
We have just the page about our parish available, and the entire issue is available from the OCA site.
We have the original story as told by Adam of the 2,000 mile journey he and Rob took to bring our "new" iconostas home.
We also have some photographs of the reconstruction of the iconostas at our church!
Baptism of Adam Kowalcheck
Adam Keith Kowalcheck was received into the Church through the Holy Mysteries of Baptism and Chrismation on August 23, 2009. Adam's grandfather, Father Onouphry Keith (St. Nicholas Russian Orthodox Church, Fletcher, NC) concelebrated the Baptism service with Father Christopher. And former deacon at Holy Cross, now priest, Father John and Matushka Ginny Hays were the Godparents. Immediately following the baptism, the three priests concelebrated the Divine Liturgy.
Unction Service in Raleigh for Fr. Edward Rommen
(Raleigh, NC) Sixteen priests and three deacons representing five Orthodox jurisdictions gathered in Raleigh on Monday August 17 to serve the Unction service for Priest Edward Rommen who was recently diagnosed with cancer. Priest Marcus Burch, dean of the Carolinas deanery and fellow clergy from the deanery were present for the service. Father Edward is the priest of Holy Transfiguration Orthodox Church in Raleigh. Please keep Father Rommen in your prayers as he undergoes treatment.

Photos courtesy of The Diocese of the South
Holy Week and Pascha!
We have some photos from Holy Friday, Baptisms and Chrismations on Holy Saturday morning, Holy Saturday and Pascha, including our Paschal Procession and an Egg Hunt that followed Agape Vespers, available, and there are still a few more to come!
Palm Sunday was a glorious celebration of Christ's entrance into Jerusalem, carrying palms and branches, and singing, "Hosanna!"
Fr. Michael Oleksa's Talk
Fr. Michael Oleksa spoke about the history of Orthodoxy's beginnings in North America, with stories of saints and "mountain men" paddling hand-made boats of elk and caribou hide in the wintry seas of the North as Russians moved into lands populated by native peoples. We have photographs from the Akathist to the Saints of North America that was served before his talk, and a short video clip from his talk.
Baptism of Alexander Malcolm Foley
Fr. Christopher's son, Alexander Malcolm, was received into the Church though the Holy Mysteries of Baptism and Chrismation on January 25, 2009.
2008 Parish News
We attended the 15th All-American Council and the Election of Metropolitan Jonah
Father Christopher, Reader Daniel, 2 observers from our parish and Father Paul attended the 15th All-American Council, where Bishop Jonah was elected Archbishop of Washington and New York and Metropolitan of All America and Canada.
Ordination of Father John Hays
Our dear brother Father Deacon John Hays was ordained to the priesthood on November 1, 2008.
Yana and Tom's Wedding
Sunday, June 8 marked not only the Ascension of our Lord, but the first wedding at Holy Cross Orthodox Church! Over a hundred people in attendance were witnesses as Yana Alexandrovna Romanova was wed to Thomas Carl Lowry in the Holy Mystery of Matrimony. Father Christopher concelebrated the ceremony with Father Paul Schellbach and Father Deacon John Hays. There are some gorgeous photographs available!
What a joyous occasion it was to celebrate Tom and Yana's marriage at Holy Cross! God grant them many Blessed years!
Ordination of Deacon John
Our dear brother John Hays was ordained to the Diaconate on Saturday, May 24, 2008. Axios! Axios! Axios!
He was ordained in part of the services associated with the consecration of the new church building of Holy Ascension Orthodox Church in Charleston, SC.
Great Lent, Holy Week and Pascha
The great days of "joy-creating sorrow" of Lent's preparation to celebrate the Feast of Feasts are past, and Pascha was a joyous festival at the parish of Holy Cross. Please see the Photographs and Videos page for more!
Archbishop DMITRI's First Archpastoral Visit to our parish!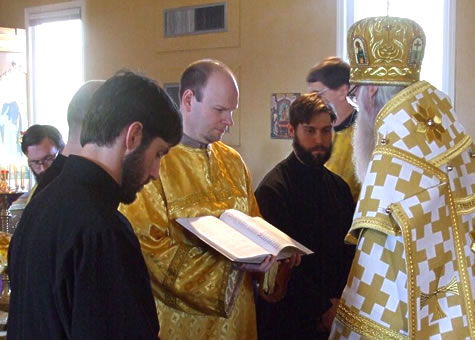 His Eminence, The Most Reverend DMITRI, Archbishop of Dallas and the South made his first archpastoral visit to Holy Cross on the first weekend of March, 2008. He was with us for Great Vespers on Saturday evening, March 1, and spoke to us about the implications of the recent Sunday of Zaccheus as we prepare for the Great Fast. Zaccheus fervently desired to see Jesus, and his Eminence said that English translations often do not portray adequately that he didn't just wish to see him, but he wished to see Jesus as He truly was. Archbishop Dmitri encouraged us all to take advantage of the Great Fast as an opportunity to walk the journey of the Prodigal Son, to re-evaluate ourselves in the light of Jesus as He truly is, preparing for the joyful celebration of the Resurrection of our Lord when Pascha comes.
In the Divine Liturgy on Sunday morning, he spoke to us about the Gospel of the day, illuminating Christ's call to treat "the least" of humankind as if they were Jesus Christ by reflecting on the Incarnation, how by taking on matter and human flesh, Jesus sanctified the material world and God became one of us, truly God and truly human. And that we can view each other and all people on earth in the light of the Incarnation as we move into the Great Fast, trying to fast not only from food but from our passions, and to focus on almsgiving and reaching out to all of God's children, seeing those who might have seemed "the least" of us as if they were Christ.
His Eminence tonsured two Readers, our Choir Director Daniel Kowalcheck and his brother Nicholas (attached to St. Nicholas Orthodox Church in Pittsburgh), and ordained to the Subdiaconate our brother John Hays.
The Archpastoral visit was an occasion of edification and great joy, and we pray for the continued health and well-being of our beloved Vladyka, Dmitri, Archbishop of Dallas and the South -- Many Years!
We have many photographs from the festive weekend, and we invite you to enjoy them!
Holy Theophany
Theophany in 2008 was a lovely day, and it was a beautiful experience as we moved from the church to continue the services of Holy Theophany outdoors for the Blessing of the Waters. As Father Christopher blessed the waters, casting the Holy Cross upon them, we recalled his homily about Christ entering the waters, sanctifying them and all of Creation.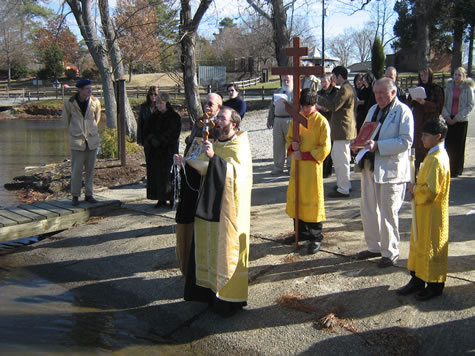 Some more photographs are available for viewing!
2007 Parish News
Father Paul Lazor's Visit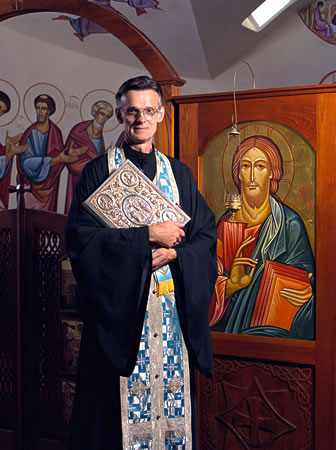 On Friday, November 9th, 2007, Fr. Paul Lazor visited and spoke to us on the
importance of our liturgical worship in the Eastern Orthodox tradition. Fr. Paul is a retired professor from St. Vladimir's Orthodox Theological Seminary in New York and is a very gifted and inspiring speaker. We are honored to have been able to host him at Holy Cross.

The Exaltation of the Holy Cross, 2007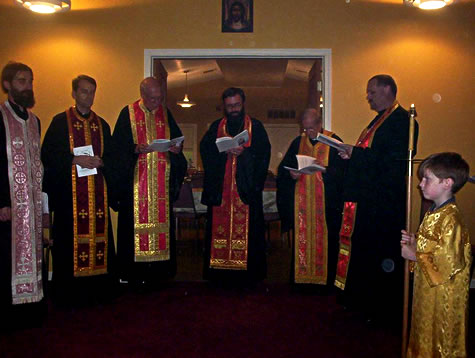 We had a wonderful Vigil for our patronal feast - The Exaltation of the Holy Cross on September 13th. It was a beautiful service and we were blessed to have all the clergy from the Orthodox Churches in the area present with us. "Through the Cross, joy has come into all the world.!" Holy Cross featured in High Point Enterprise News
Pascha, 2007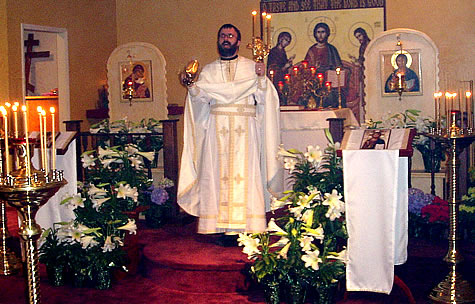 What a joyous first Pascha we had at Holy Cross. God is good!
Holy Week, 2007